Travelling to Morocco Makes me a Better Mom by Tamara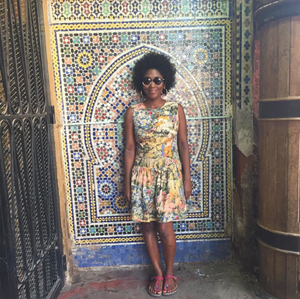 I'm Tamara, a southern Black girl who happens to live in Rome, Italy. I have the pleasure of being the mom of two fantastic boys, Noah and Milo, ages 6 and 3 respectively.
While living in the eternal city, I juggle the stresses of not only normal mom stuff but also running two companies as best as I can. When people ask me what I do (a question I loathe only because I find it difficult to nail down all that I do into one concise word or even one sentence and I don't like to feel like I'm rambling when I've just met someone) I normally respond, "I'm a creative." 
That seems to fit best. I write and publish my own books for children. The first and most popular, The Ghanaian Goldilocks, is an award-winning title that depicts the age-old story with an interesting twist. In my version, Goldilocks is a boy with a golden-tipped afro. He lives in Accra, Ghana and learns an unexpected and important life lesson within the story.  I just published the sixth title, B is for Breakdancing, this week.(Find out more at theenglishschoolhouse.com)
I mean, you know a book is dope when D is for Dougie…
(Yes, the guy breaking it down has vitiligo.)
So anything creative that I imagine and produce that makes the veteran Kindergarten teacher in my soul happy (books, curriculum, educational games, apps, The Ghanaian Goldilocks soundtrack) falls under The English Schoolhouse. Everything else that my imagination thinks is a good idea gets filed under Pizzoli Media. (pizzolimedia.com) Probably the biggest upcoming project under that umbrella is a web series I've written, produced and directed that's loosely based on my life here in Rome—In Nero: Black Girls in Rome.
So with all this going on and two boys I'm raising, I've found that one thing that helps me to keep focused and executing great projects consistently is maintaining a routine. It's not hard for me to do as I'm pretty much a creature of habit.
For example, every morning I go to the same bar (coffee shop) on my street and have breakfast. It's pretty swanky and it makes me happy to be surrounded by so much splendor.
I'm currently working on a series of travel books for kids using Kofi, the main character of The Ghanaian Goldilocks, as the basis. So back in August I was at my coffee shop and I began chatting up one of the waitresses, Houda. She asked me where I was going for my summer vacation, and I casually mentioned that I wanted and needed to go to North Africa for two reasons: 1. I wanna write a book for kids there for this series. And 2. Maestro Gaetano Castelli, Art Director for the Moulin Rouge and Crazy Horse in Paris, has asked me to design a few dresses for him to paint based on my Black Girls in Rome concept. I wanted to fly to North Africa first (it's practically up the street from Rome) to get some design inspiration and fabric.
Without skipping a beat, Houda exclaimed, "I'm from Morocco! You'll come to my house and stay with me! I'll show you everything."
After a bit of thought, I trusted my gut and agreed, and the decision changed my life, my parenting, and most importantly my mind.
A couple of weeks later, I was in Houda's family's home and their hearts.
I could summarize the entire trip for you, but then this post would be way too long. I offer instead some of my favorite pics as well as my Facebook post from the first day I'd gone to the hammam, or the Turkish spa, with Houda. 
Marrakech today...
Y'all.
The hammam is goddess business.
Pure, unadulterated goddess business.
Three things I unlearned in 2 hours of taking a Turkish bath...
-Not taking time for myself. Since WHEN did I become allergic to relaxing??? Nah, I will have all the massages. I will have all the Turkish baths.
-Not exfoliating.
When I marveled at how renewed I felt, Houda said, 'It's your job to relax. It's the first thing. It's your right.'
-Not socializing purposefully. There is power in a room full of naked women bathing and talking about everything and nothing. Houda told me Moroccan women go to the spa like American women go to the gym...like every other day. They arrange and go together like we go to happy hour. Um, in a word, yes.
And the woman who bathed me also washed my afro, and Houda and I were both sad we didn't have a camera for that, but the image wouldn't have been Facebook friendly anyhow.
Seeing women transform from being completely nude to completely veiled was powerful. And the most important life lesson came from the scrubbing off of the dead skin. It burns a little bit and the cloth is rough and abrasive. Reminded me of what it feels like to get rid of things and people that are close to you but no longer good or necessary, I told Houda. 'Yeah,' she replied, 'Moroccan women have a saying. We call going to the hammam going to pay our debts.'
Y'all I'm so damn zen right now I feel like a could slay a dragon, tame two lions, find and marry three husbands if i wanted to and fix my kids lunch all from my golden seat.
Morocco is magic.
I will have a home here.
---
That goddess business stuff I spoke of is real.
As is the empowerment you naturally gain, and the grace and love and good vibes you exude, when you just relaaaaaaax. I mean, really relax. It's infectious, and as a mom, it permeates you and transfers quite naturally and quickly to your children. This child isn't mine, but he stopped me in the market and asked me to be his mom. True story. I think he could feel the serene vibes I was undoubtedly giving off. Plus he said it just made the most sense because we are both brown. 
I've permitted the Moroccan approach to living to impact my parenting and my life in general in a pretty profound way. (Mind you, I went back in September as well. What can I say, it has some kinda hold on me. We even shot an episode of Black Girls in Rome there, and funny enough, Houda plays Malaak in the show, a Moroccan artist). 
(Houda & Filmmaker Joshua Bee Alafia on a rooftop in Marrakech)
I have to really stop myself from going off on a tangent right now of how it's all connected through this really gorgeous golden thread in life, but I won't. I will stay focused.
So the ways in which Marrakech has impacted my parenting:
-I accept that I set the tone for my house and the vibe within it. If I'm chill, my kids will be too. So I do what makes me happy.
-I extend bath time for my boys.
-I wash them with black soap and exfoliate.
-If we're late or dinner's not on the table at the exact moment I imagined it would be, I give myself permission to not freak out and realize that I'll get there when I'm supposed to…or they'll eat soon enough. I encourage myself to feel and act timeless.
-I encourage them to relax more…kick their feet up, do much of nothin' when they can.
Anyway, it's such a gift to be able to hop over to Marrakech when I feel the tug. I'm grateful and wanted to share a few of my favorite things from there as well as my popular ABC book featuring cities around the world in vintage poster style: M is for for Marrakech, with Grace & Elie's readers.

There's also black soap, exfoliating cloths and a couple of lounge dresses adorned with the hand of Fatima from Marrakech.
I hope the lucky winners enjoy the items, and I hope you stay in touch if you'd like.
@tamarapizzoli (instagram)
Tamara McPherson-Pizzoli FB
@engschoolhouse Twitter
And just because she's so lovely and I'm so fond of her, I'm ending this post with a one of my favorite photos of Houda's mom, a woman I now call "Helti", or aunt.
---
Leave a comment
Comments will be approved before showing up.